This UCR program works to raise college attendance rates among American Indian students.
BY TESS EYRICH
LeeAna Espinoza Salas '19 might have been raised in Corona, but she didn't always plan on attending the university in her own backyard.
Salas, who is part of Southern California's Cahuilla tribe, recently graduated from UC Riverside with a bachelor's degree in media and cultural studies. She's poised to begin a graduate program in American Indian studies at UCLA this fall.
Her route to higher education started at the annual Gathering of the Tribes Summer Residential Program, an immersive, weeklong experience organized by UCR's Native American Student Programs office, or NASP. Salas, who first attended the program as a rising ninth grader, is one of the 30 to 50 high schoolers who have participated each year since 2005.
Between 20%-30% of those students come from out of state, with the majority from Southern California, said NASP director Joshua Gonzales '04. Save for transportation to and from UCR, most costs associated with the program are covered by NASP.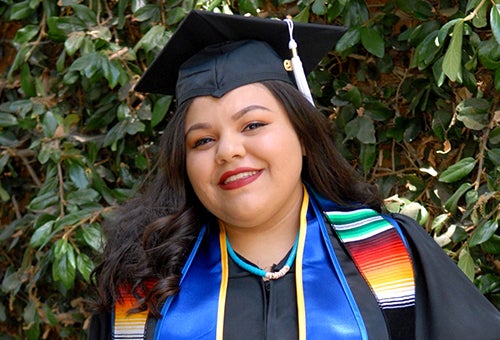 The goal is to provide a preview of university life — and what it'll take to get there — to Native American students, who have some of the lowest college enrollment and six-year graduation rates in the country. According to the National Center for Education Statistics, as of fall 2017, American Indian/Alaska Native students comprise less than 1% of the country's total 16.8 million undergraduates, with an overall enrollment rate of about 20% among graduating Native American high school seniors.
During their week on campus, students live in UCR residence halls. In daily writing workshops, they practice responses to essay prompts on the University of California's standard undergraduate application. And they learn about all that UCR — and college in general — has to offer through a range of interactive activities.
"We're trying to create an environment where they feel empowered," Gonzales said.
This year, 30 high schoolers attended the program from June 23-30. While at UCR, they toured the School of Medicine, conquered the Challenge Course at the Student Recreation Center, and looked at rare archival materials in the Rupert Costo Library of the American Indian.
They also took part in cultural activities, including talking circles, a beading workshop, and an evening in which each student is encouraged to share something about their heritage, such as a song.
For many students, the program comes at a time when they're discovering and becoming comfortable with not only their personal identities, but their cultural ones, too.
"Being here often motivates students to go back home and learn their languages, to go back and learn their songs," Gonzales said. "We want to push that higher education is great, but that it's also important to learn about who you are."
A part of the program Salas valued most was getting to meet and network with other Native American students, including ones already in college. She was so inspired by her resident advisor that she decided to become one herself, and has spent her past four years as a UCR student assisting with the summer program.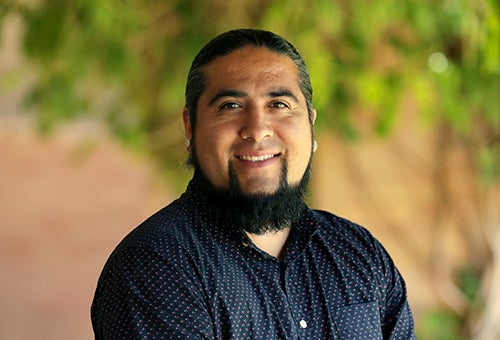 "Growing up, none of my cousins or anyone had gone to college, so having a relationship with someone who did was motivating," Salas said. "I wanted to set that example for other students and reciprocate the impact my RA had on me."
Gonzales said about 93% of the summer program's participants have gone on to attend community colleges or four-year universities, with many receiving master's and doctoral degrees.
Recognizing this success, the San Manuel Band of Mission Indians awarded $1.28 million to NASP in 2018. Over the next 10 years, the funding will ensure the summer program's growth and allow Gonzales and two newly hired coordinators to strengthen their outreach and retention efforts to attract more Native  American students to UCR.
"Once students get through our program, it's always, 'Oh, I'm going to college,'" Gonzales said. "It's a small experience of college life where they realize this is fun. It's hard work, but you can also have a good time too."